A Poem of Thanks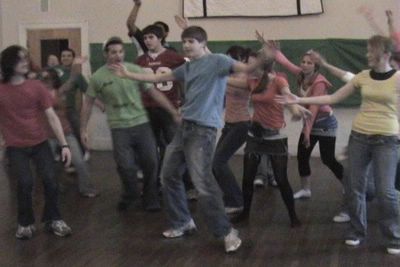 For the past eight years, I've been involved with a program called Building Community Through the Arts which helps foster a feeling of community in Maine high school classrooms. This program has awarded me with a wonderful opportunity to help create some harmony in our world. It's amazing what art can do and I am as amazed by the results as anyone. Read my article about BCTA
here
.
Below is a poem of thanks written by a Bangor high school public speaking class. The poem came with a video of the students using the hallways, lockers and doorways of Bangor high school as site specific dance spaces. When kids can be so inspired to celebrate themselves and their learning, you can know something good is happening in public education. I am so thankful to be part of it.
Here is the poem:
Louis,
Since you were here,
A room is now a space to twirl and dance randomly
A beat is something to stomp and repeat
A friend is someone to spin
Other schools are not always people to defeat (I love this line!)
A doorway is a chance to stop and pose
An empty corridor is a place to sidestep and waltz
A line of people has the possibility of the stroll
A hope is something to leap about
And you're someone we couldn't have done this without.
You've opened our eyes
And opened our hearts.
You've shown us things
We never would have seen.
We're out of our shells
We've come alive
Now we are ready to take life in stride.
Thank you!
Bangor High Class 5/6